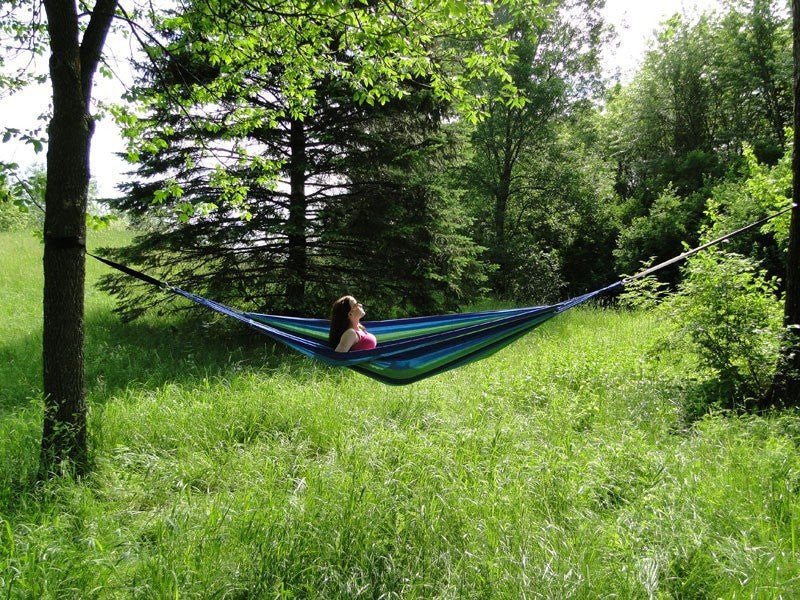 Brazilian Style Single Hammock
Lie down and laze the day away on this Brazilian-style single hammock. This hammock offers plenty of lounging room to get your lounging on – and it's made from premium material that holds up to the elements like a boss, so you can enjoy it for many seasons to come.
If the Brazilians know one thing – it's how to make a hammock – as you'll see when you get this Brazilian-style single hammock home and installed in your backyard or out on the porch. This super comfy hammock beckons you to come lie down, rest your bones, and take a load off while you sway gently with the passing breeze.
Made in the Shade
Our Brazilian single hammock is just the thing for whiling the weekend away beneath your favorite shade tree. It's made from a premium blend of cotton and polyester that's tightly knit, so it's rugged, durable, and tough, yet soft against your skin as you laze away the hours.
We include a carrying pouch for our more adventurous hammock potatoes (we coined that term, so move over couch potatoes) who want to take this hammock along camping. It's lightweight, so it won't add a lot of bulk to your rucksack.
One of the most popular hammocks we sell; customers can't rave about it enough
Woven using the same traditional technique used by Northeastern Brazilians – ancient hammock makers
Made from cotton/polyester that's tightly woven for durability
Accommodates one adult with ease
Holds up to 250 pounds without breaking a sweat
Installs quickly and easily on a single hammock stand, between two shade trays, or from the supporting beams on a porch or patio
Lightweight hammock is portable for camping and backpacking
Comes with pouch for storage or transport
Ideal for smaller areas, porches, or small backyards
Hammock measures 9.5 feet in length overall
Vegging out area measures 6.56 feet long x 3.28 feet wide