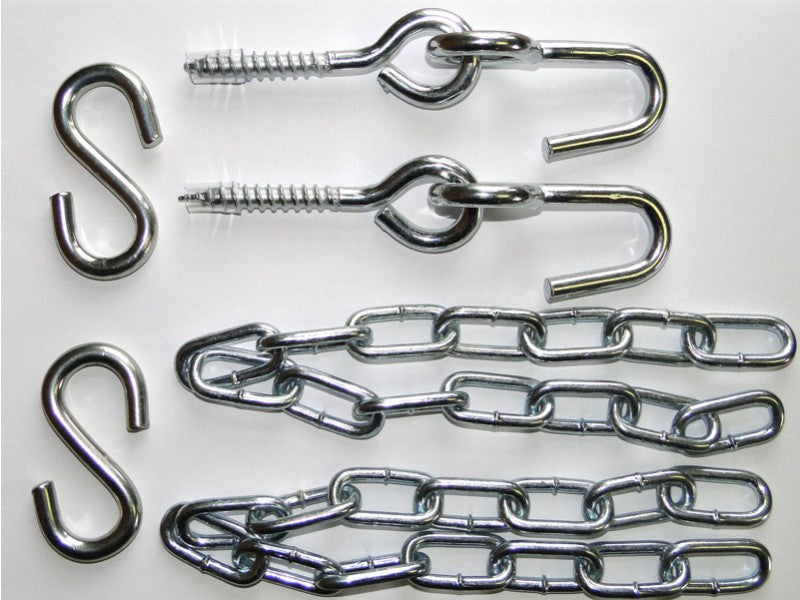 Chain Hanging Kit
If you're anxious to get your hammock hung and start swinging and swaying in the breeze, then pick up this chain hanging kit. This all-inclusive kit includes everything you need to take your hammock from nice idea in a box to great idea hanging between two trees or from the beams on your porch. The kit includes zinc-coated hardware, so it handles everything Mother Nature throws its way with a smile on its face.
Waste no time getting your hammock hung and ready for use with this chain hanging kit. This kit includes everything needed to get your hammock from a pretty concept in its shipping box to out-of-this-world concept in the backyard hanging between a couple of shade trees.
Easy Peasy
This kit has the hardware you need to anchor your kit in position – whether outside from aforementioned trees, on the porch from beams, or from wooden posts. The kit's hardware is constructed from premium metal, so you can rest assured that it will hold up with beauty to anything you throw its way. Each piece is zinc coated, so it can weather the elements without skipping a beat – and you don't have to worry about rust and corrosion. Simply screw the kits eye bolts into your tree or support beam, and then attach the included S-hooks via the chain. Adjust it to suit your desired height preference, attach your hammock, put on your lounging pants, grab a cold one and the newspaper, and head out back veg out. Easy peasy, lemon squeezy.
Our chain hanging kit makes hammock hanging fast and simple
Premium metal construction for lasting service life
Zinc-coated hardware weathers the elements like a boss
Use kit to hang hammock between trees, beams, and posts
Kit includes 2 S-hooks, 2 chains, 2 I-bolts with attached J-hooks
Includes everything you need to get your hammock up and in use
Takes minutes to install
Can be used with all hammocks that we sell