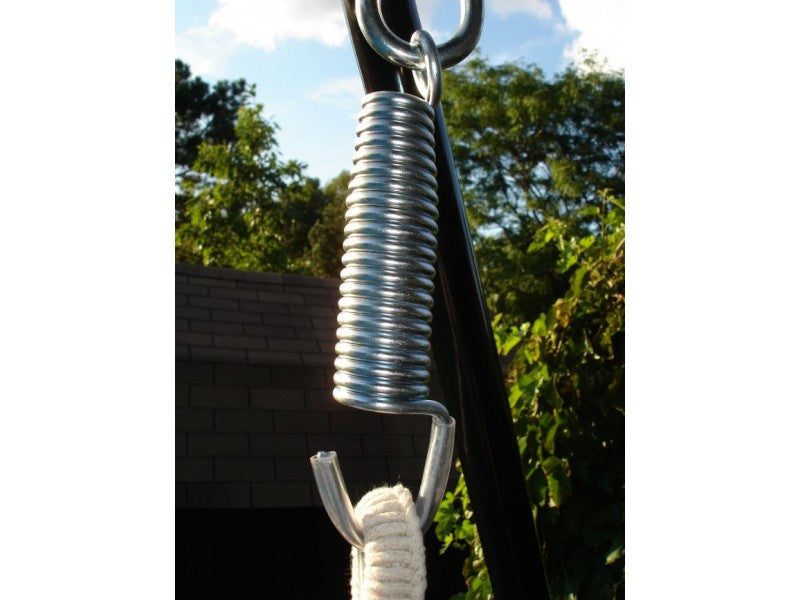 Hammock Chair Spring
Make your hammock chair even more inviting with this hammock chair spring. This spring attaches to your existing hammock chair setup to give your chair additional bouncing power as you sit. Premium steel construction ensures that this hammock chair spring holds up for long-term enjoyment.
Revisit the days of your youth when you install this hammock chair spring that gives your hammock chair maximum bouncing power. Fair warning: adding this chair spring to your existing hammock chair setup may bring out the kid in you – or it may bring your kids out to the backyard where you'll have to use serious negotiating power and bribery to even get to sit in your chair again.
Fast Installation
This chair spring hooks securely onto your chair in seconds by simply attaching it to the hook and looping the chair through the spring. Once installed, you can swing, bounce, and relax in your hammock chair to the fullest. Bounce all you'd like; we won't judge.
This hammock chair spring is crafted using top-of-the-line steel springs, so it's super durable, super tough, and super fun. The rust-resistant stainless steel makes it nearly impervious to the weather, so you don't have to worry about corrosion and rust affecting its performance or shiny good looks.
An 8-inch length ensures that you get the most from every bounce and gives you a lot of leeway when installing your chair from a tree bough, hammock chair stand, or porch/ceiling beam.
Hammock chair spring adds a fun bounce factor to your chair
Made from high-quality steel for lasting use and resilience
21 coils make up this spring, giving it added bouncing prowess
8-inch coils
Installs easily in seconds
For use both indoors and outdoors
Made by Hammock Universe
Comes with 1-year warranty for assurance of quality
Weighs 2.1 pounds