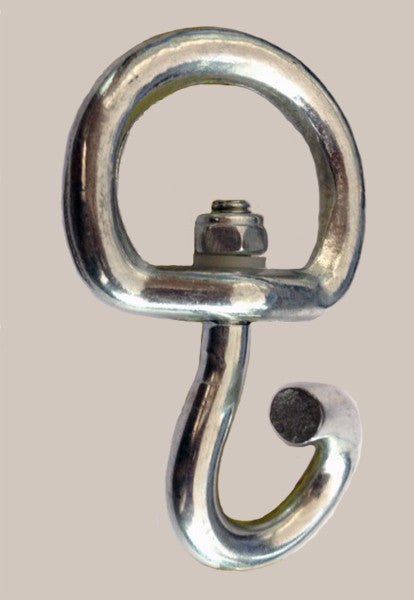 Hammock Chair Swivel
Just when you thought owning a hammock chair couldn't be more fun, this hammock chair swivel goes and proves you wrong. Use this chair swivel along with our chair hanging kit to transform your hanging hammock chair into a fully rotational chair that lets make 360-degree turns in an instant. This heavy-duty metal hook is zinc coated, so it resists rust and corrosion, retaining its beautiful demeanor for long-term use outdoors.
Expand your hammock chair's sitting possibilities with this hammock chair swivel. This super tough swivel mechanism works with our chain hanging kit to turn your ordinary hammock chair into a swiveling hammock chair, so you can easily turn around in any direction and enjoy alternate views on whim.
Durable, Tough
This well-built hammock chair swivel is easy to install; just integrate it into your chain hanging kit as indicated in the included directions. The swiveling mechanism allows you to turn a full 360 degrees, enhancing the overall whimsy of using your hammock chair.
Metal construction gives this swivel a rough, rugged demeanor, so it can withstand the rigors of heavy daily use without skipping a beat. A special zinc coating on the outside makes it resistant to rust and corrosion, so it holds up beautifully to extended use outdoors. As a bonus, this swivel holds up to 275 pounds, so it can accommodate the weight of most adults.
Hammock chair swivels allows you to swivel a full 360 degrees in your hammock chair
Facilitates rotating to face any direction as you sit
Designed for use with chain hanging kit
Zinc-coated for long-lasting beauty and durability
Installs in just minutes along with your chain hanging kit
Durable, heavy-duty design
Measures 4.5 inches long x 2.5 inches wide
Supports up to 275 pounds, or the weight of most average adults