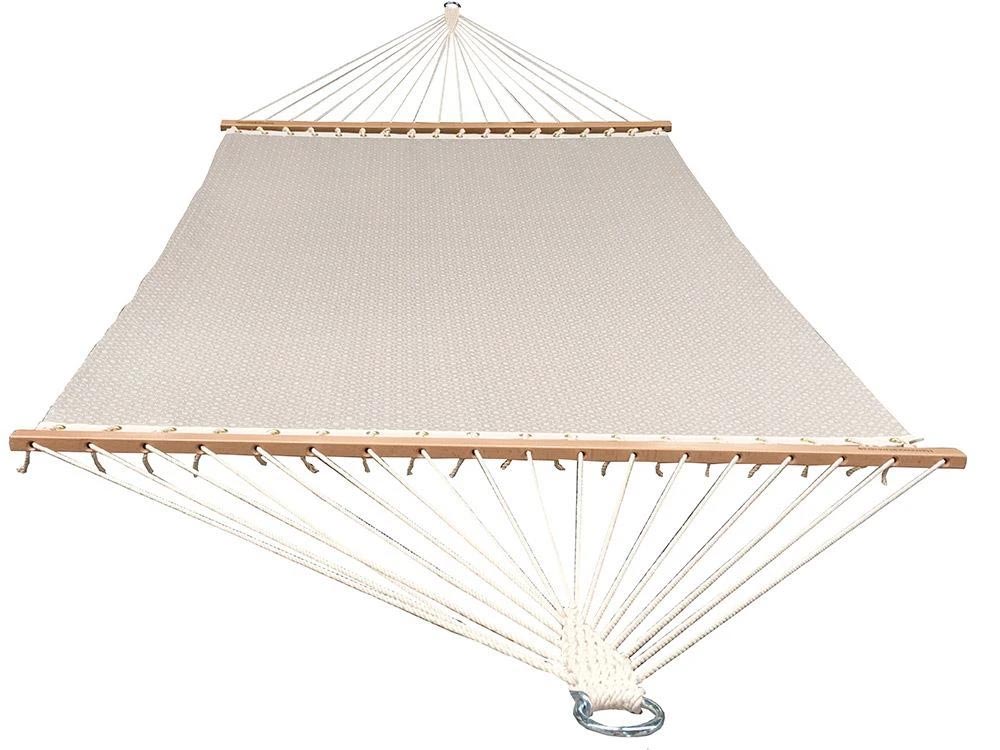 Double Poolside/Lake Hammock
Hang out by the pool, literally, while lounging in this double poolside hammock. This hammock features textilene construction, so it's waterproof and dries quickly after accidental splashes. It comes in several color options to add a touch of cheery fun to your pool area.
Alternate between long dips in the pool and lounging on this double poolside hammock. This hammock features construction using textilene, a waterproof material that dries quickly, so you can use it near the pool without worry of misguided splashing ruining your chill session in the hammock.
Room for Two
This hammock is oversized and accommodates two people, so you can choose to hog it all to yourself for catching some rays near the pool or share it with a friend or significant other to get in a little couple time. The on-board spreader bars keep the resting area open for more comfortable lounging and to make it easy to climb into and out of again. We include the hardware for hanging, so you can start enjoying your new double hammock right out of the box. 
Poolside hammock is ideal for use near the pool or by the lake
Dries quickly, so you don't have to worry about errant splashes ruining your lounging time
Double-size design is ideal for sharing with fellow sun worshippers
Resting area made from 100-percent waterproof textilene
Comfortable and soft construction feels luxurious beneath your skin
Spreader bars keep the hammock from folding in, so you can tan or lounge without hindrance
Holds up to 450 pounds or the weight of two average adults
Resting area measures 7 feet long x 5 feet wide
Overall hammock length is 13 feet
Comes in multiple colors
Hanging hardware needed for fast installation out of the box
Hang from hammock stand, two trees, or a porch/patio support beam